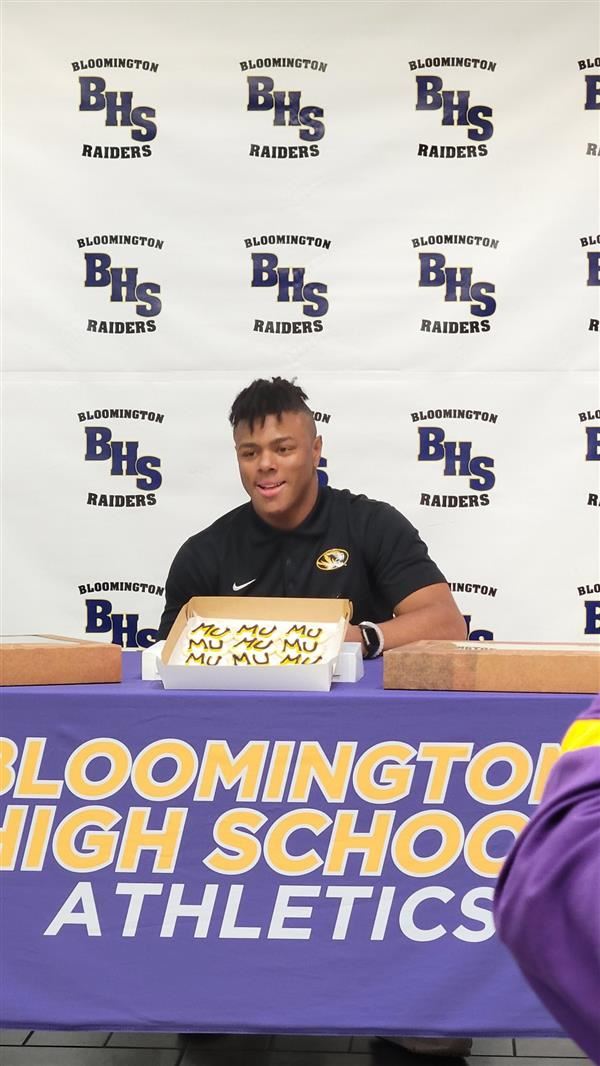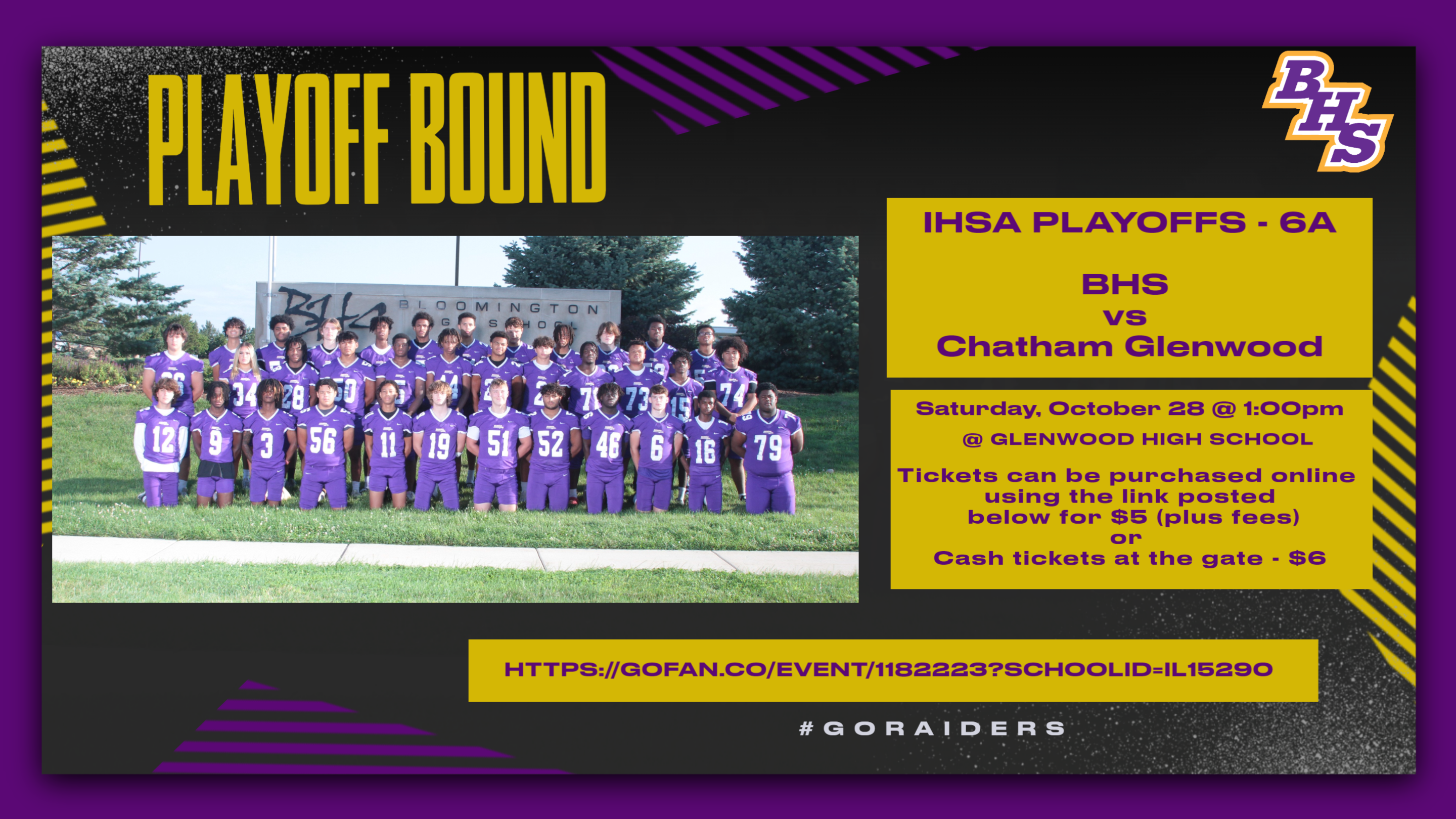 Raider Fans - Use this link to purchase your football playoff tickets online!
Booster Club "Raider Night Out"
Purchase your tickets now !
Tickets can for the dinner can be purchased online from the link on the flyer linked here.
Can't attend on 11/18, that's okay and we certainly understand. You can still support the club by participating in the drawn down raffle. Winner does not need to be present.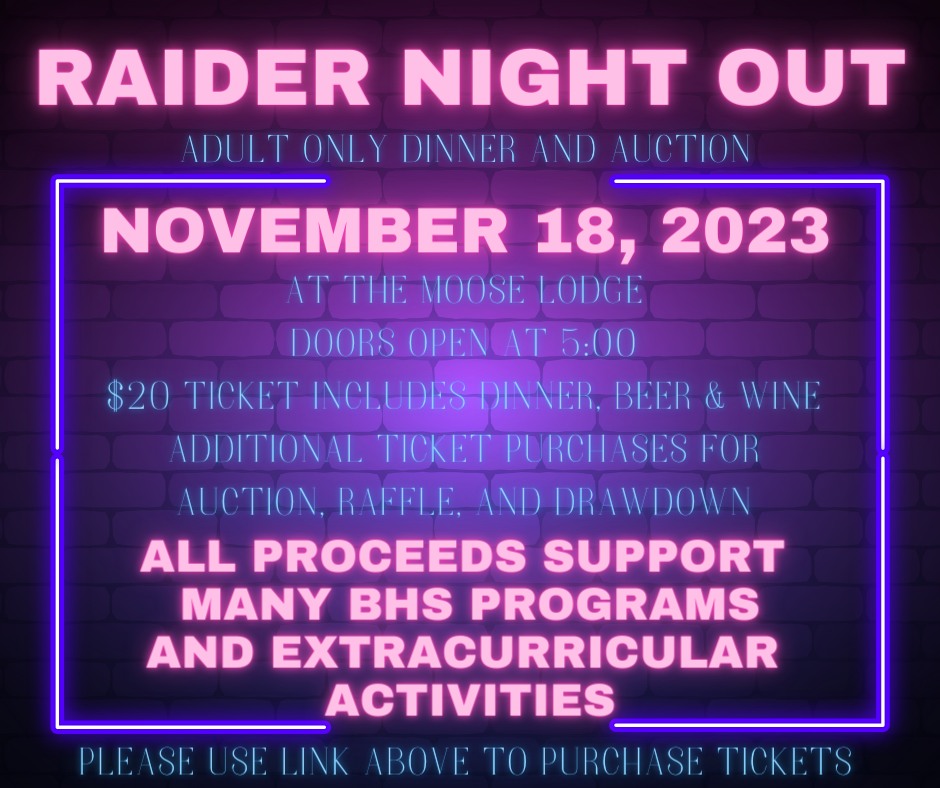 Coming to a BHS Athletic home event, here are some helpful tips and reminders:
All students, regardless of what school they attend, must present a school ID at the entrance.
BHS students will be required to use the designated BHS only student entrance.

The District 87 stadium is a pet free area. Dogs are not allowed in the stand or grass next to the field.
Outside food and/or drinks cannot be brought inside the stadium.
No backpacks or sports balls can be brought in by spectators.
Ticket Prices for Raider Football
Adult - $5.00
Students - $3.00
Senior Citizens and Military - $1.00
Volleyball/Swim/Basketball
Adult - $4.00
Students - $2.00
Senior Citizens and Military - $1.00
Fred Carlton Field - Parking
When attending an athletic event at Fred Carlton Field , parking is available across the street from the stadium in any of the Bloomington Junior High or High School parking lots. A very limited amount of parking is available on Colton Avenue.
Please be sure to observe all no parking signs on the residential streets and do not block any driveway areas. Cars parked illegally may be ticketed or towed.
NFHS Network - Watch the Raiders Play!
Bloomington High School is proud to announce our partnership with the NFHS Network.
All events of all levels in the Robert Frank Arena (basketball, volleyball, wrestling) and all events on Fred Carlton Field (football, soccer) will be streamed LIVE.
Join the NFHS Network for full access to:
* All Bloomington High School live and on-demand sports broadcasts
* All other sporting events from around the Nation

Here's how to watch:
1) Visit NFHS Network
2) Search for "Bloomington High School" and go to our page
3) Subscribe and Follow

Friends and family members who can't make the game will never miss a play again!
The subscription to the NFHS Network includes access to all events streamed and fans can watch events from all across the United States. Many Illinois high schools will also be using the NFHS Network so you may also be able to view the Raiders during many or the road games as well.
Thank you for your support!
LET'S GO RAIDERS!
Stay connected to D87, BHS and Raider Athletics on social media:
Twitter: @BHSRaiderSports
Twitter: District_87
Facebook: @District87athletics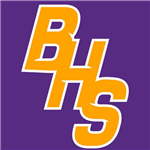 RAIDER ATHLETICS

Athletic Department Contact Information
Phone: 828-5201 option 4
School Address: 1202 East Locust, Bloomington, IL 61701
Athletic Director: Tony Bauman
Email Tony Bauman
Administrative Assistant: Crystal Curry
Email Crystal Curry